Tegenungan Waterfall is one of the most popular Bali Places of Interest and the beauty of the waterfall does not only become an attraction for domestic or foreign tourists, local people also often visit this waterfall. Its a part of the Petanu river flowing along the village of Kemenuh, it reaches to the height of up to 20m so you can feel the sound vibration of the falling water. The beauty of Tegenungan waterfall in between green rocky walls can be seen from the first stop point where you can find local stalls serving food and beverages.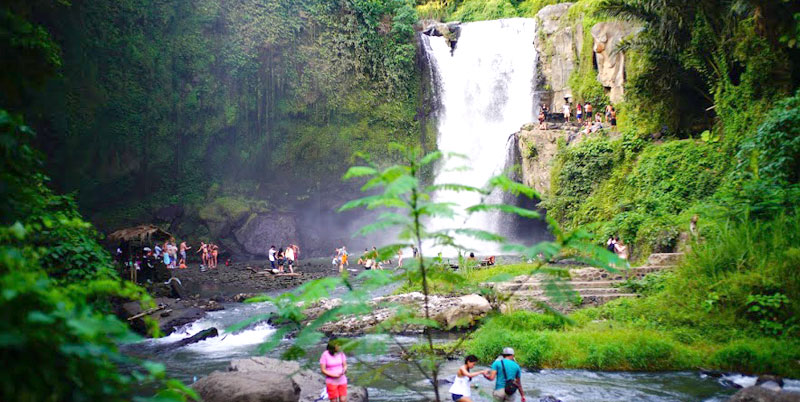 To get to Tegenungan Waterfall you have to go down 172 stairs. Along the way, you will find a public bath used by local people which is divided into two separate areas, for men and women. The water source of this public bath is very clear and clean, here you can also find Beji temple for self purifying. The residents of Tegenungan, under the supervision of the local banjar, manage this waterfall.
Tegenungan Waterfall object has complete infrastructure such as parking lot, public toilet, garbage bins, food and beverages stalls in the very strategic spot to see the beauty of this waterfall. It is also a clean and safety place to visit. For photographers its a perfect spot to take the picture of waterfall landscapes, surrounded by trees surrounding it. The spots can be found anywhere in many places around the waterfall, with interesting and challenging angles.
Visitors are not allowed to swim in the area of Tegenungan Waterfall due to the deep trough. For those who want to swim or or just play in the water, you can do that along the side of the river or in the public bath nearby.
Entrance Ticket : IDR 10,000