Jatiluwih Rice Terrace is one of the most popular Bali Places of Interest, its surrounded by cool atmosphere because it is located in the height of 700 meters above sea level. The journey up to these highlands from the main southern areas such as Kuta and Denpasar takes an approximate two hours drive. Full Day Tour itineraries usually include Jatiluwih as a main attraction alongside other prominent highlights within the region, such as Ulun Danu Temple, Candi Kuning Fruit Market, Alas Kedaton Monkey Forest, Taman Ayun Temple together with the picturesque Tanah Lot sea temple at the end of the day, just in time for the striking sunset backdrops and dinner shows.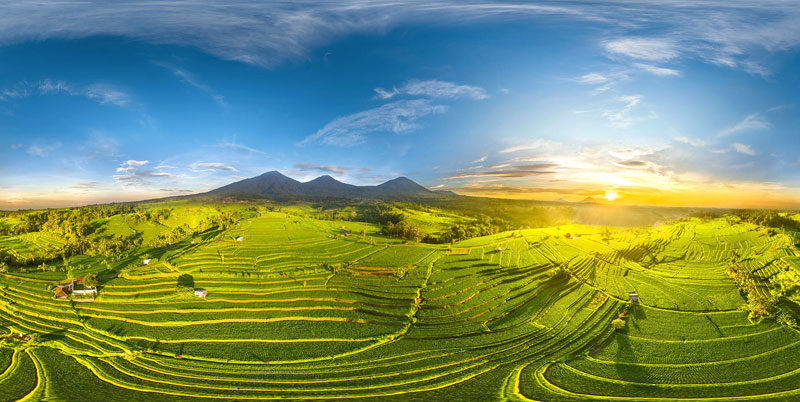 Jatiluwih Rice Terrace pretty much cover the region of the namesake upland village in West Bali, most famous for its landscapes that are both dramatic and truly exotic. The site is one of the island must see natural panoramas on par with Mount Batur and the caldera of Kintamani. The cool highlands and the breathtaking scenery of this village at the foot of Mount Batukaru makes for wonderful photo opportunities, and serves as a soothing retreat away from the island crowded south.
Once a UNESCO Cultural Heritage Site Jatiluwih Rice Terrace comprises over 600Ha of rice fields that follow the flowing hillside topography of the Batukaru mountain range. These are well-maintained by a traditional water management cooperative known as subak, which dates back to the 9th century. The cooperative itself eventually won recognition as a dominant factor in Bali cultural landscape entry on UNESCO World Heritage List.
You will find the largest and most picturesque expanse of paddies in Bali and perhaps the whole of Indonesia here. Another sister area with similar views is the village of Pupuan, also in Tabanan. Lush green views will already come into view upon approaching the region, while the main vantage point lies further up in the village. Entrance to the main area of Jatiluwih Rice Terrace requires a fee that goes to the local village cooperative fund, and which is usually covered by tour operators.
Halfway up, the view is truly impressive, with 180 degrees of gently sloping terraces as far as the eye can see. Several restaurants serving international and local cuisine line the small road overlooking the Jatiluwih Rice Terrace most tour itineraries stop here for lunch. One of the restaurants offering the best vantage point is Billys Terrace Cafe, which serves local selections and buffets, and Warung Jatiluwih 259 further down the slope. While most travelers on tailored tours normally enjoy the scenery by day, the rice fields are equally impressive at sundown, complete with fireflies and the sound of nature that emerge and become more apparent into the evening.
Entrance Ticket : IDR 50,000